---
13 Wacky Gaming Articles
This past week we had a theme on the site called Wacky Week. The editors all chose odd, weird, or silly topics to write about. It was a great exercise for stretching the creative muscles in our brains and shaking out our cobwebs before E3. And it made for some really wacky reading. But, it wasn't just on Gaming Enthusiast that we had these articles. Our sister site, Nintendo Enthusiast, also held a Wacky Week. Now that the week is over, we have compiled all 13 wacky articles in one convenient place. You can look over all the links and read whichever ones you missed.
From Gaming Enthusiast
Wacky, Weird, and Disturbing Fan-Art
The 5 Greatest (Worst) Video Games To Bless This Generation
The 5 Most Amazing Plants In Gaming
The Hidden War of Deus Ex: The Coffee Wars
5 Atari Games That Should Be Made Into Movies
Michael Bay Currently In Negotiation To Produce Lumines Movie
Top Five Most Adorable Elves/Knife-Ears In Gaming
Alternate Reality: What If Sony and Microsoft Had Made a Console Together?
From Nintendo Enthusiast
5 Signs That He's The Right One For You
NE's Exclusive Fake Interview With Miyamoto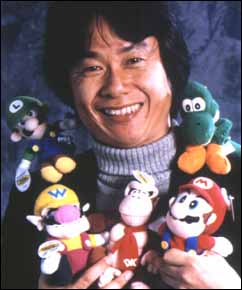 The Wacky Nintendo Page Full of Surprises
The Psychology of Wackiness In Games and Life
The Nintendo Enthusiast Medley


The following two tabs change content below.
Menashe
Menashe is the Owner of Gaming Enthusiast and Nintendo Enthusiast. He currently teaches in university, develops games, and writes about the video game industry. To read more of his articles, visit Gaming Enthusiast and Nintendo Enthusiast regularly. You can contact him at ninten.enthusiast@gmail.com.